Saghmosavank Monastery, Armenian Alphabet Alley, Armenia Wine factory, ArmAs wine factory
Saghmosavank Monastery, Armenian Alphabet Alley, Armenia Wine factory, ArmAs wine factory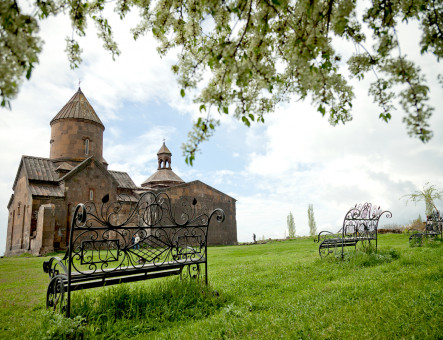 5 km far from Hovhanavank monastery, on the edge of Kasakh river canyon, in the 13th century Vachutian dukes built Saghmosavank monastery. The main church is adjacent to the scriptorium, where many manuscripts have been produced during centuries. Saghmosavank underwent the devastating influence of the earthquake in 1988. The reconstruction, completed in 2000, returned the church its beauty and glory.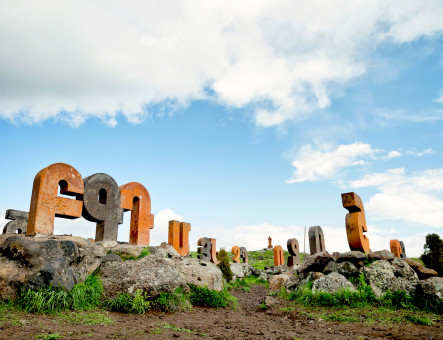 Armenian Alphabet Monument is located in the village of Artashavan, at the east side bottom of Mount Aragats. It was erected in 2005 to the 1600th anniversary of creation of the Armenian alphabet by the design of the famous Armenian architect Jim Torosyan. The monument is an interesting demonstration of the stone carvings of 39 Armenian letters. The Armenian alphabet has been used to write the Armenian language since the year 405 or 406 and is still used to present Armenian language in written form. It was devised by Saint Mesrop Mashtots, an Armenian linguist and ecclesiastical leader, in order to make the Bible accessible to Armenians and spread Christianity. Originally it contained 36 letters and had been completed in the Middle Ages.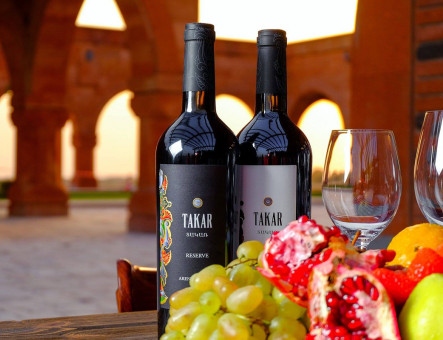 Founded in 2008, "Armenia Wine" is one of the largest wineries in Armenia. Equipped with modern facilities, it has a full set of resources for ensuring quality winemaking during the whole production process of sparkling and still wines. Within the tour one will visit the cellars, see the unique production process, and also savour the wide range of wines produced here in a special tasting room.
The following degustation packages are available:
Option 1 – tasting of 2 types of "Armenia" wine at

3 500 AMD

p/p;
Option 2 – tasting of 3 types of "Yerevan" wine at

5 000 AMD

p/p;
Option 3 – tasting of 3 types of "Takar" wine at

6 500 AMD

p/p.

Other saturated tasting options are also possible to book.The reservations should be made in advance.
Inclusions
Professional drivers
Air-conditioned vehicles
Bottled water
Free pick-up & drop-off within Yerevan
Vehicle & passengers insurance
Extra stops on the route upon request
Admission price covers Option 1 wine tasting package
Exclusions
Significant deviations from the route
Audio guides
WiFi in the vehicles
What to expect
Marvel at the breathtaking views opening up from the gorge
Admire the details of Middle Ages architecture
Explore the history of creation of the Armenian alphabet
Take wonderphotos with Armenian letters
Get the taste of delicious Armenian wine
Cancellation & modification