Khor Virap Monastery, Azat Reservoir view point, Garni Temple, Geghard Monastery, Lavash baking master class
Khor Virap Monastery, Azat reservoir view point, Garni Temple, Geghard Monastery, Lavash baking master class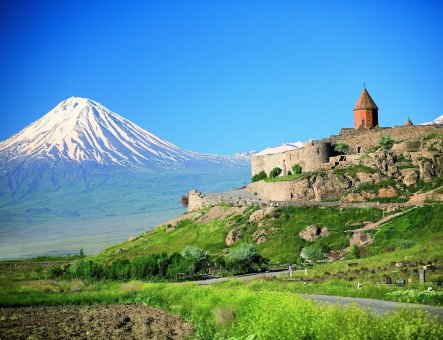 Khor Virap is the most famous pilgrimage site in Armenia, as it is directly connected with the adoption of Christianity. As a state religion, Christianity in Armenia was adopted in 301 due to endeavors of Saint Gregory The Illuminator, who, before converting King Trdat The 3rd to Christianity, was imprisoned in the dungeon, over which a church of Khor Virap monastery was built in the 17th century. From the monastery one can admire the stunning view of the Biblical Mount Ararat.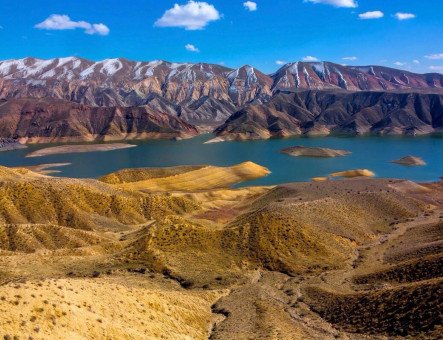 Azat Reservoir (1050 m above sea level) is located in Ararat province. It was put into operation in the year of 1976 with the aim of being used for irrigation of the Ararat Valley. The area makes 2.85 sq. km, while the total volume is 70 million cubic m. The reservoir is surrounded by mountains and within many years it has kept admiring visitors. The reflection of the Sun/Moon combined with clouds in water "spreads" a unique impression.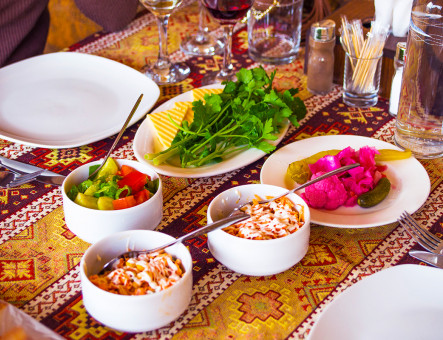 Optional lunch in the local traditional restaurant on own expense. One may choose between 3 different options:
Option 1 (vegeterian) – 3500
AMD
per person
Option 2 – 3900
AMD
per person
Option 3 – 4500
AMD
per person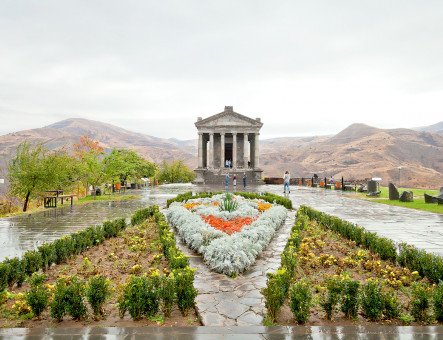 Garni temple, which towers over a triangular cape, is the unique survived example of heathen culture in Armenia. It is a blend of Greco-Roman and Armenian styles. King Trdat The First ordered building the temple in the first century AD and dedicated it to the God of Sun. After adopting Christianity in 301, the pagan temple lost its significance and the fortress of Garni became the summer residence of the kings. Nowadays the ruins of the royal palace and the bathroom with a stunning mosaic work can be found near the temple.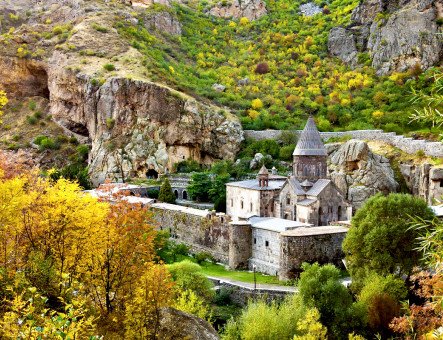 Geghard monastery is the unsurpassable masterpiece of the 13th century Armenian architecture. Some of the churches of the complex are masterfully hewn in a huge rock. From the outset the complex was called Ayrivank (cave monastery), later it was renamed Geghard (lance) as the lance, used by the roman soldier to sting Jesus Christ's side, had been kept in this monastery for many centuries. Due to its construction, Geghardavank serves the best place for singing spiritual songs. The complex is rich in subtle sculptural embellishments and many striking khachkars (cross-stones). The site is included in UNESCO World Cultural Heritage List.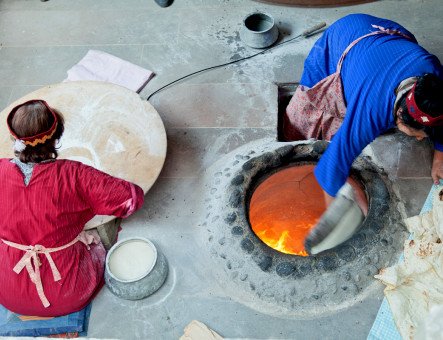 As the saying goes: "Bread is the staff of life".

Lavash is one of the most popular gastronomic icons of Armenia, serving as an integral part of the Armenian cuisine. It is a traditional soft, thin flatbread, made in tonir (special ground oven). Although the baking process of lavash requires much of special skills, it is undertaken by women. For centuries lavash has been consumed by all classes of Armenian society, it is valued for the unique taste and the ability to be stored for quite a long period of time without losing its positive qualities.

In 2014 "The preparation, meaning and appearance of traditional bread lavash as an expression of Armenian culture" was inscribed in the UNESCO Representative List of the Intangible Cultural Heritage of Humanity.

During this master class you will observe and learn the millennia-old techniques of making lavash, and, of course, taste self-baked lavash together with some fresh greens and yummy local cheese. Feeling the smell of lavash once, you will save this impression for the whole life:)
Inclusions
Professional guide: ENG + RUS + ARM consecutively
Air-conditioned vehicles
Bottled water & pastries
Admission tickets
WiFi in the vehicles
Vehicle & passengers insurance
Master class & tasting
Exclusions
Lunch cost (3 500 AMD – 4 500 AMD)
Hotel drop-off after return to Yerevan
What to expect
Embrace the stunning views of Biblical Mount Ararat
Marvel at the one of a kind nature of Armenia from a special view point
Explore the 1st century pagan temple
Discover the legends of St. Lance used by the roman soldier to sting Jesus Christ's side
Taste most delicious Armenian traditional bread
*Take with you cash Drams: it is not always possible to pay for lunch in the restaurant by Credit Card
Cancellation & modification