Sightseeing and walking tour in Yerevan, Garni Temple, Geghard Monastery
Yerevan main sights, Garni Temple, Geghard Monastery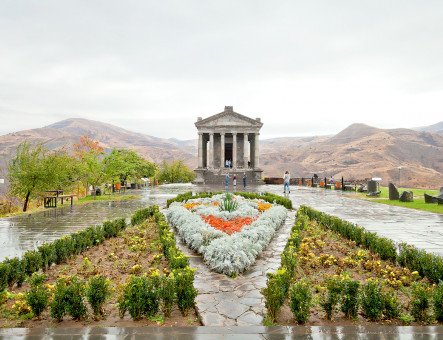 Garni temple, which towers over a triangular cape, is the unique survived example of heathen culture in Armenia. It is a blend of Greco-Roman and Armenian styles. King Trdat The First ordered building the temple in the first century AD and dedicated it to the God of Sun. After adopting Christianity in 301, the pagan temple lost its significance and the fortress of Garni became the summer residence of the kings. Nowadays the ruins of the royal palace and the bathroom with a stunning mosaic work can be found near the temple.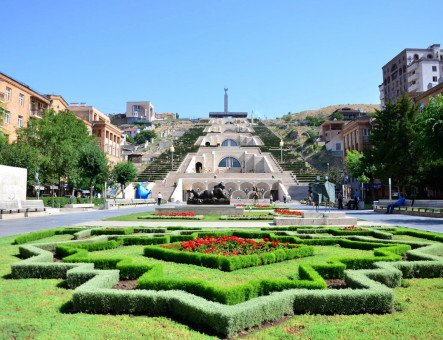 Yerevan is the capital city of Armenia, a city, which is 29 years older than Rome! It dates back to 782 BC, when the fortress of Erebuni was built by king Argishti The First. Yerevan is often referred to as "The Pink City" for many buildings are made of pink tuff stone. The capital city is a major tourist destination thanks to its numerous landmarks, extensive nightlife, great museums and lovely parks. A walking tour is the best way to really get immersed in Yerevan's culture, history and cuisine. One of the truly magnificent sights is Republic Square with musical fountains: from early May till mid-autumn there is a fantastic singing-dancing fountains show, accompanied by some great music of various genres. Another sight not to be missed is Cascade Complex, offering absolutely breathtaking views from the top to the city. You can fully enjoy it at night, when Yerevan lights up.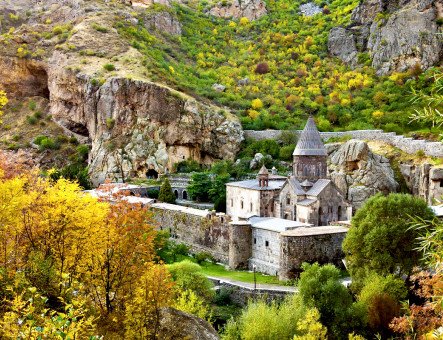 Geghard monastery is the unsurpassable masterpiece of the 13th century Armenian architecture. Some of the churches of the complex are masterfully hewn in a huge rock. From the outset the complex was called Ayrivank (cave monastery), later it was renamed Geghard (lance) as the lance, used by the roman soldier to sting Jesus Christ's side, had been kept in this monastery for many centuries. Due to its construction, Geghardavank serves the best place for singing spiritual songs. The complex is rich in subtle sculptural embellishments and many striking khachkars (cross-stones). The site is included in UNESCO World Cultural Heritage List.
Inclusions
Professional drivers
Air-conditioned vehicles
Bottled water
Free pick-up & drop-off within Yerevan
Vehicle & passengers insurance
Extra stops on the route upon request
Exclusions
Significant deviations from the route
Alcoholic beverages if lunch option selected
Audio guides
WiFi in the vehicles
What to expect
Visit the city, which is 29 years older than Rome
Explore the key landmarks of Yerevan
Feel Yerevan "on hand" from a special viewpoint
Explore the 1st century pagan temple
Discover the legends of St. Lance used by the roman soldier to sting Jesus Christ's side
Cancellation & modification