Lake Sevan, Sevanavank Monastery, Dilijan town short stop, Goshavank Monastery, Haghartsin Monastery
Lake Sevan, Sevanavank Monastery, Dilijan, Goshavank Monastery, Haghartsin Monastery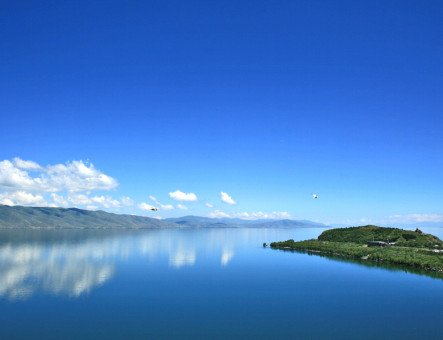 The fascination and the "pearl" of mountainous Armenia is Lake Sevan, which is one of the world's greatest high altitude fresh-water lakes. It is about 1900 m above sea level. The lake is of volcanic origin and is surrounded with mountains of 3000 m and higher. The beautiful landscape and the crystal water serve nice preconditions for excellent rest.The lake is also famous for its peninsula and medieval church complex, built in 874.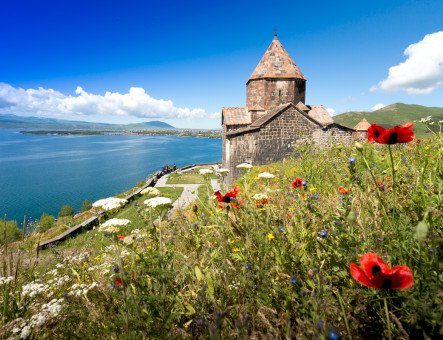 A marvelous scene opens in the north-western part of Lake Sevan, where the peninsula towers over the transparent surface of the lake. Sevanavank monastery was built on the peninsula in 874 by the order of king Ashot Bagratuni's daughter – princess Mariam. The silhouette of the churches against the background of the turquoise lake and blue sky casts unexplainable impression on the visitors.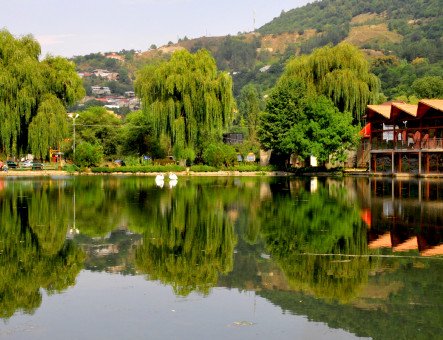 Dilijan entices people with its unforgettable beauty and mild climate. The city stretches on the banks of Aghstev river, surrounded with mountains and forests. Dilijan has the fame of a health resort. The warm sun, fresh air and natural spas have great healing influence on people. Dilijan is also rich in interesting architectural monuments.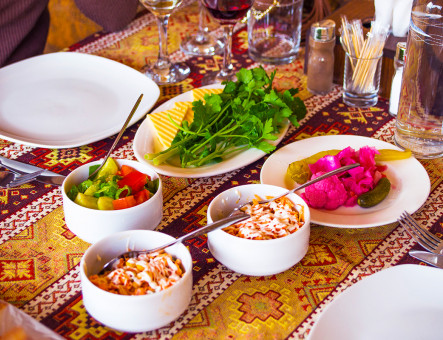 Optional lunch in the local traditional restaurant on own expense. One may choose between 3 different options:
Option 1 (vegeterian) – 3500
AMD
per person
Option 2 – 3900
AMD
per person
Option 3 – 4500
AMD
per person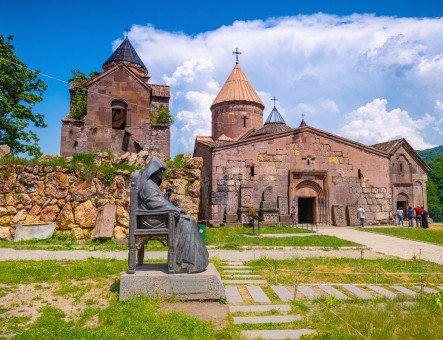 Goshavank was founded by the famous medieval scientist, fabulist Mkhitar Gosh. The complex consists of several religious and secular buildings. The unrivalled khachkar, put in front of the one-naved basilica, was created by the skillful master Poghos in 1291. Goshavank used to be one of the most famous religious and cultural centers in medieval Armenia.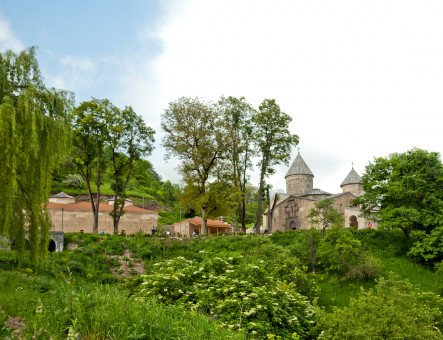 Haghartsin monastery, situated in the woodlands of Tavush region, represents an indescribable example of blend of nature with architecture. It was founded in the 10-11th centuries, though new buildings were added in the 12-13th centuries. Now it consists of St. Grigor, St. Astvatsatsin (Holy Mother of God), St. Stepanos churches and some other buildings.The refectory, due to its skillful architectural composition, is of great interest. Near Haghartsin there used to grow a huge oak tree, almost at the age of the monastery, completing the whole scene. Unfortunately, only a small part of the hollow has remained till the present day, however, it is still of much interest among the visitors, and preserves the tradition, according to which, when one makes a wish and at the same time manages to pass through the tree (hollow), it is expected to come true in the nearest future.
Inclusions
Professional guide: ENG + RUS consecutively
Air-conditioned vehicles
Bottled water & pastries
WiFi in the vehicles
Vehicle & passengers insurance
Exclusions
Hotel drop-off after return to Yerevan
Lunch cost (3 500 AMD – 4 500 AMD)
What to expect
Visit one of the largest freshwater high-altitude lakes in Eurasia
Admire the forests of the "Armenian Switzerland"
Explore the most popular monasteries in Armenia
*200 steps to climb to Sevanavank
*600 m to walk down the hill to Haghartsin
*Take with you cash Drams: it is not always possible to pay for lunch in the restaurant by Credit Card
Cancellation & modification