Khor Virap Monastery, Noravank Monastery, Tatev Monastery (wayback on Wings of Tatev Ropeway)
Khor Virap Monastery, Noravank Monastery, Tatev Monastery, Wings of Tatev Ropeway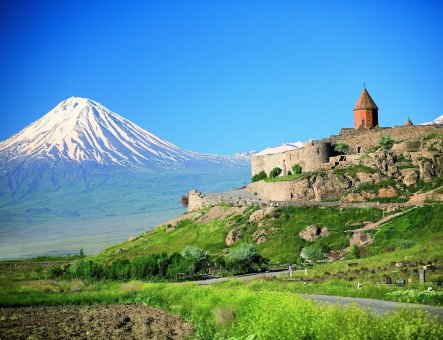 Khor Virap is the most famous pilgrimage site in Armenia, as it is directly connected with the adoption of Christianity. As a state religion, Christianity in Armenia was adopted in 301 due to endeavors of Saint Gregory The Illuminator, who, before converting King Trdat The 3rd to Christianity, was imprisoned in the dungeon, over which a church of Khor Virap monastery was built in the 17th century. From the monastery one can admire the stunning view of the Biblical Mount Ararat.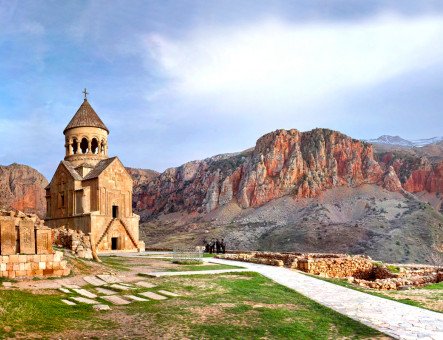 Passing a narrow road, surrounded by rocks of hundred caves, one discovers a scene of harmony of architecture with nature. The monastery, enshrined with fine architectural solutions and luxurious embellishments, is one of the brightest examples of Armenian architecture of the 13th century. Noravank consists of St. Karapet, St. Gregory The Illuminator churches and St. Astvatsatsin (Holy Mother of God) two-storey church, which is notable for its ideal constructive and sculptural work.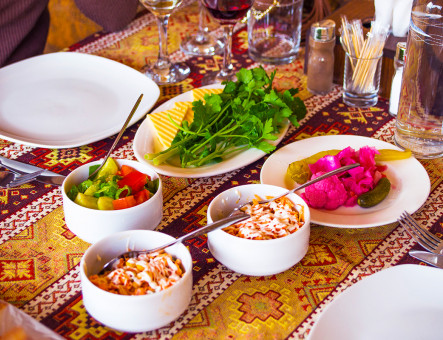 Optional lunch in the local traditional restaurant on own expense. One may choose between 3 different options:
Option 1 (vegeterian) – 3500
AMD
per person
Option 2 – 3900
AMD
per person
Option 3 – 4500
AMD
per person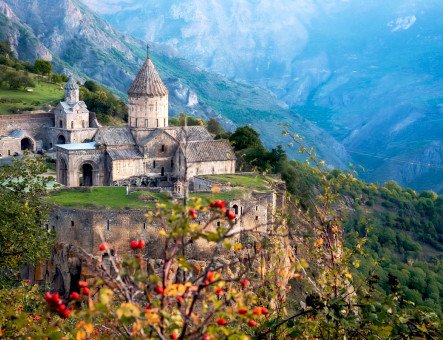 Among the architectural pillars of Zangezour, the monastery of Tatev does not have its "rivals". It used to be the wealthiest medieval monastery in Armenia. Besides being a religious center, Tatev was also the important strategical center of Syunik kingdom. Being situated on a naturally defended place, Tatev monastery has always been an impregnable fortress for alien. In non-stable political conditions several secret ways in the territory of the fortress led to the canyon and served as a link between the monastery and the external world.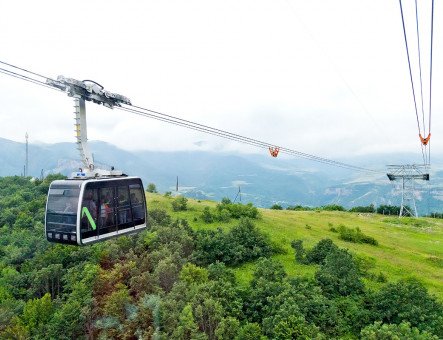 Church bells were ringing loud in Tatev on October 16 of 2010, heralding the launch of a program to revive a medieval monastic complex and the opening of "Wings of Tatev Ropeway". The 5.7 km ropeway, built within 11 months, passes through a deep gorge of the River Vorotan and over hills, covered with lush forests. The tramway is supported by three towers between its two terminals. One terminal is on a hill, overlooking the village of Halidzor and the other is near Tatev Monastery, on the road to Tatev village. Two cabins operate at once, traveling in opposite directions. There are 6 cables altogether (3 for each cabin), each uniquely foreseen for the specifications of this project. Within about 11 minutes a tramway cabin takes passengers, 30 at a time, from the village of Halidzor to the magnificent complex of Tatev.
Inclusions
Professional guide: ENG + RUS consecutively
Air-conditioned vehicles
Bottled water & pastries
Admission tickets
WiFi in the vehicles
Vehicle & passengers insurance
Exclusions
Lunch cost (3 500 AMD – 4 500 AMD)
Hotel drop-off after return to Yerevan
What to expect
Embrace the stunning views over Biblical Mount Ararat
Observe the magnificent 2-storied monastery in Armenia
Explore the mystic vibes of the canyons
Take a ride on the longest reversible cableway in the World, recorded in the Guinness Book of Records
*Take with you cash Drams: it is not always possible to pay for lunch in the restaurant by Credit Card
Cancellation & modification