Hin Areni Wine factory (tour and tasting), Shaki waterfall, Tatev (wayback on Wings of Tatev Ropeway)
Hin Areni Wine factory, Shaki Waterfall, Tatev Monastery, Wings of Tatev Ropeway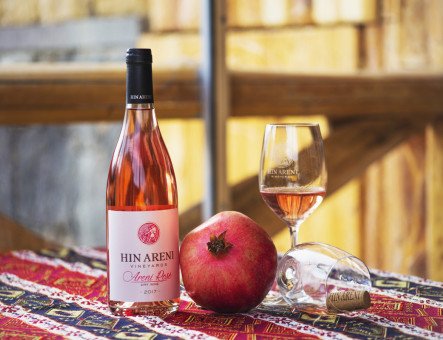 Vayots Dzor and Areni village in particular has been the cradle of Armenian winemaking for millennia. "Hin Areni" wine factory opens up the doors of this region to the world to showcase the historic and indigenous Armenian grape varietals. At the winery the historic traditions of winemaking are well combined with state-of-the-art modern equipment. "Hin Areni" wine factory has the capacity to process over 250 tonnes of grapes.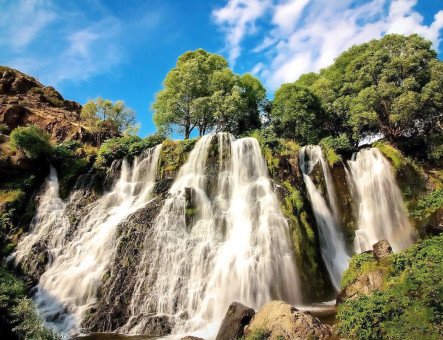 Shaki waterfall is in the southern part of Armenia, close to Sisian. The fall, being located in one of the coziest and nicest corners of Syunik, gloriously opens its striking beauty to all admirers. The air here is full of inspiring melody of water and scent of mountains, loading all their wafts.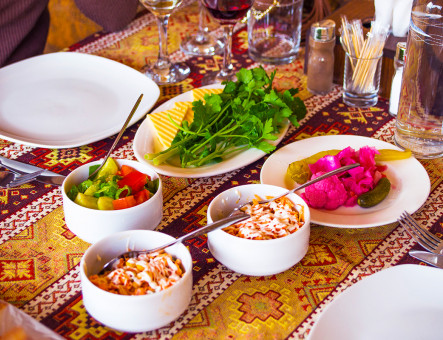 Optional lunch in the local traditional restaurant on own expense. One may choose between 3 different options:
Option 1 (vegeterian) – 3500
AMD
per person
Option 2 – 3900
AMD
per person
Option 3 – 4500
AMD
per person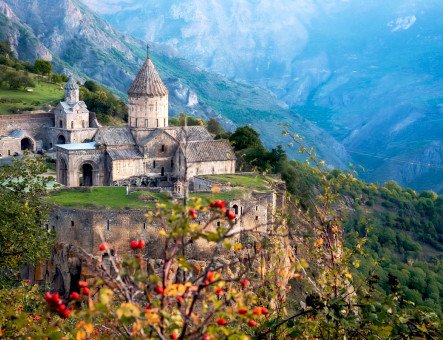 Among the architectural pillars of Zangezour, the monastery of Tatev does not have its "rivals". It used to be the wealthiest medieval monastery in Armenia. Besides being a religious center, Tatev was also the important strategical center of Syunik kingdom. Being situated on a naturally defended place, Tatev monastery has always been an impregnable fortress for alien. In non-stable political conditions several secret ways in the territory of the fortress led to the canyon and served as a link between the monastery and the external world.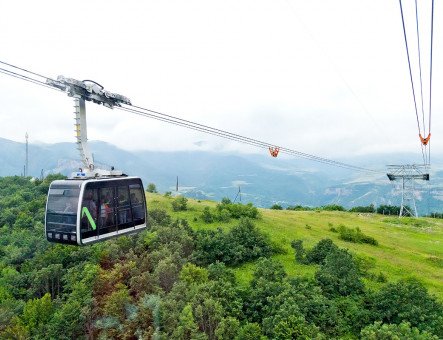 Church bells were ringing loud in Tatev on October 16 of 2010, heralding the launch of a program to revive a medieval monastic complex and the opening of "Wings of Tatev Ropeway". The 5.7 km ropeway, built within 11 months, passes through a deep gorge of the River Vorotan and over hills, covered with lush forests. The tramway is supported by three towers between its two terminals. One terminal is on a hill, overlooking the village of Halidzor and the other is near Tatev Monastery, on the road to Tatev village. Two cabins operate at once, traveling in opposite directions. There are 6 cables altogether (3 for each cabin), each uniquely foreseen for the specifications of this project. Within about 11 minutes a tramway cabin takes passengers, 30 at a time, from the village of Halidzor to the magnificent complex of Tatev.
Inclusions
Professional guide: ENG + RUS consecutively
Air-conditioned vehicles
Bottled water & pastries
Admission tickets
WiFi in the vehicles
Vehicle & passengers insurance
Wine tasting
Exclusions
Lunch cost (3 500 AMD – 4 500 AMD)
Hotel drop-off after return to Yerevan
What to expect
Reveal the unique taste of Armenian wine
Enjoy the inspiring melody of nature
Explore the mystic vibes of the canyons
Take a ride on the longest reversible cableway in the world, recorded in the Guinness Book of Records
*Take with you cash Drams: it is not always possible to pay for lunch in the restaurant by Credit Card
Cancellation & modification