Lori Fortress, St. Nicholas the Wonderworker Church, Odzun Monastery, Kobayr Monastery
Lori Fortress, St. Nicholas the Wonderworker Church, Odzun Monastery, Kobayr Monastery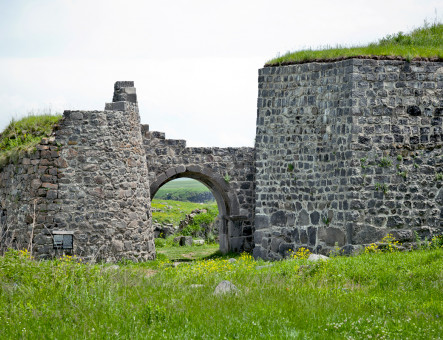 Medieval city-fortress Lori (Lori berd) was founded in the 11th century. It is located at the intersection of Lori's picturesque gorges, and the two old bridges are connecting it with the outside world. One of them was completely repaired and only one part is kept from the other one. Regardless the fact that the fortress was cruelly destroyed, some parts of it, including the bathrooms and the chapel-mausoleum, were kept. There are unique murals found in the residential areas of the fortress, which, if compared to the other contemporary paintings, are in secular manner. The household and military possessions, found during the archeological excavations, tell a lot about its history and culture. There are different tools, weapons, jewelry, various vessels made of clay, glass or stone found in the fortress. They serve as a historical proof for different kinds of handicrafts being well developed in Lori.
The wonderful nature of Lori region is completed by St. Nicholas the Wonderworker Church. The church, constructed in neo-Russian style for orthodox Russians, was built in 1848 in Nikolaevka village (nowadays Amrakits), which was established by Ukrainian cossacks. The church was hugely damaged during the earthquake of Spitak in 1988 and is still not functioning.
Saint Nicholas the Wonderworker is considered to be the prototype of modern Santa Claus. "Santa" is derived from the word "Saint", and "Klaus" is derived from the name "Nikolay". Nicholas the Wonderworker was famous for his infinite kindness. He distributed the wealth, inherited from his rich parents, to the poor. According to the legend, on the Christmas eve he used to drop food and purses full of money down the chimneys of the poor, and the presents often fell into the socks drying by the fire. This is how the tradition of putting gifts into the socks by the Christmas eve derived. Hundreds of years later, this tradition is still preserved.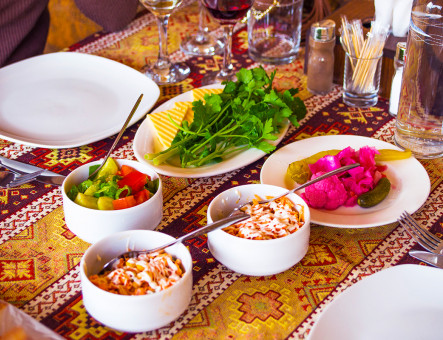 Optional lunch in the local traditional restaurant on own expense. One may choose between 3 different options:
Option 1 (vegeterian) – 3500
AMD
per person
Option 2 – 3900
AMD
per person
Option 3 – 4500
AMD
per person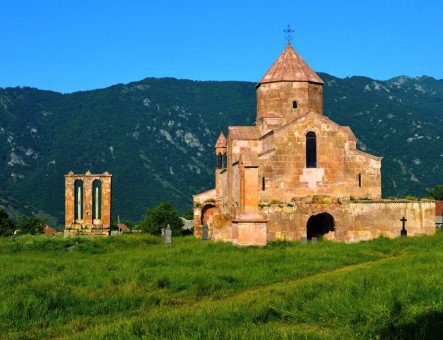 The village of Odzun is one of the biggest villages of Lori region. The domed basilica is situated in the middle of the village and is seen almost from every side. The inscriptions of the church do not convey any information about its foundation, though the architectural and artistic analyses have proven that it was built in the 6th century.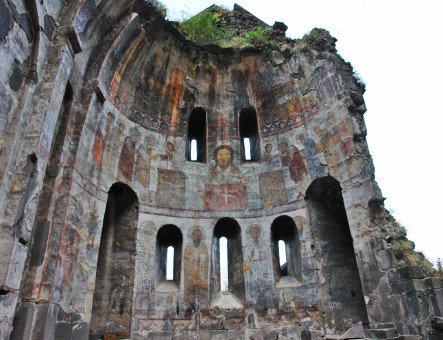 The fantasy of the architects and masons has reached outstanding achievements when building Kobayr monastery. It was built in the 13th century on a picturesque and inaccessible rock. The whole monastery seems to be integrated into the rocks. The monastery consists of three churches, chapels and a refectory. The main church is half destroyed and its only survived eastern wall, covered with stunning frescoes, is like a huge canvas towering over the rocks.
Inclusions
Professional guide: ENG + RUS + ARM consecutively
Air-conditioned vehicles
Bottled water & pastries
Admission tickets
WiFi in the vehicles
Vehicle & passengers insurance
Exclusions
Lunch cost (3 500 AMD – 4 500 AMD)
Hotel drop-off after return to Yerevan
What to expect
Enjoy the inspiring melody of nature
Immerse yourself in the secrets of ancient legends
Take a selfie on the background of incredible Debed gorge panorama
Marvel at the inexpressible beauty of medieval frescoes
*Take with you cash Drams: it is not always possible to pay for lunch in the restaurant by Credit Card
*900 m to walk to Kobayr
Cancellation & modification