Amberd Fortress, Mount Aragats, Lake Kari, Aregi Dry Fruit and Eco-Snack factory, Saghmosavank Monastery, Armenian Alphabet Alley
Amberd Fortress, Mount Aragats, Lake Kari, Aregi Dry Fruit and Eco-Snack factory, Saghmosavank Monastery, Armenian Alphabet Alley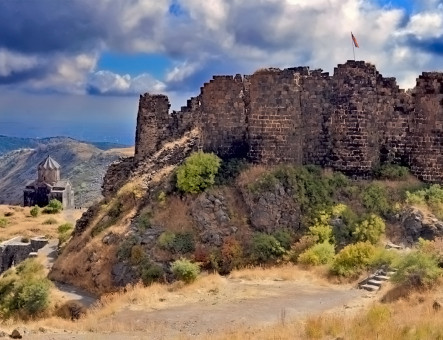 The principal architectural features of medieval fortress-building have found their reflection in this fortress. Having been built on a naturally well-defended cape, Amberd has for long time served as an important military fort. Next to this secular edifice there is a church, built in 1026 by the duke Vahram Pahlavuni.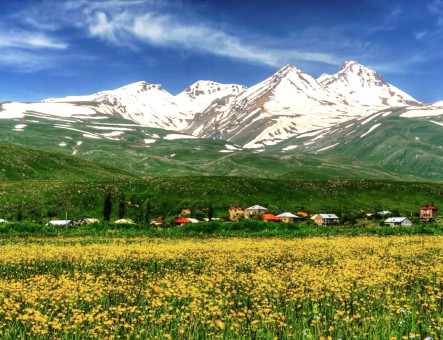 The highest peak of the Republic of Armenia is Mount Aragats (4090 m). This four-peaked giant is the most favourite mountain of climbers. On the way to the southern peak the best stop is at Lake Kari (translated as stone lake), which is at the height of 3250 m. On the top one opens the most attractive scene: the silhouette of green valleys from one side, the eternal snow and silver lakes from other sides and the Biblical Mount Ararat far in the fog of Ararat Valley.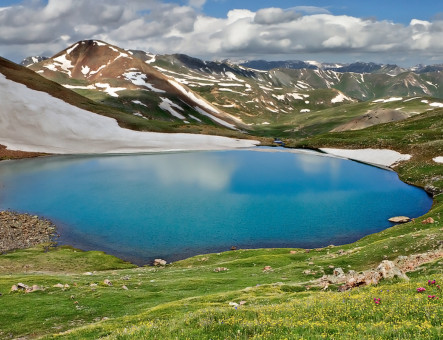 Lake Kari (translated as stone lake) is situated on Mount Aragats at the height of 3250 m. The lake is usually surrounded with snow, due to which the water is always cold.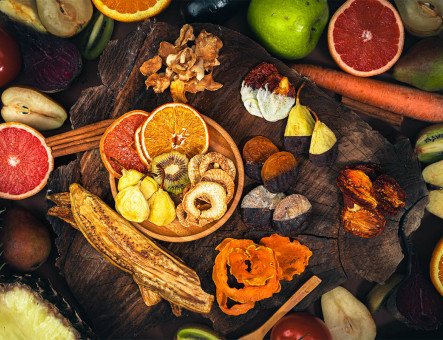 "Aregi" dry fruit factory is located in the sunniest part of Armenian highland. Starting from 2020, "Aregi" has been bringing new quality standards and setting modern ways in the production of dried fruits.

Visitors of the factory will find many taste surprises full of incredible combinations of fruits and vegetables. Here one can try a variety of dried fruits, participate in the harvest process, walk through the gardens and even see solar stations.

"Aregi" will gladly host all supporters of healthy food.

* The reservations should be made in advance.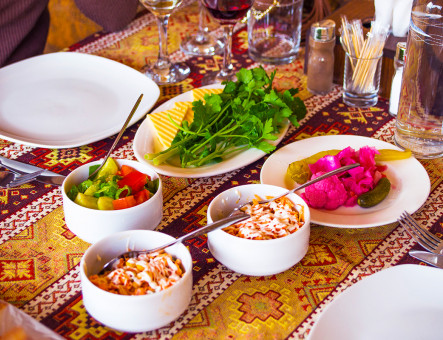 Optional lunch in the local traditional restaurant on own expense. One may choose between 3 different options:
Option 1 (vegeterian) – 3500
AMD
per person
Option 2 – 3900
AMD
per person
Option 3 – 4500
AMD
per person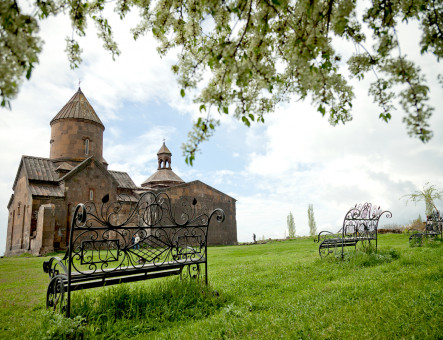 5 km far from Hovhanavank monastery, on the edge of Kasakh river canyon, in the 13th century Vachutian dukes built Saghmosavank monastery. The main church is adjacent to the scriptorium, where many manuscripts have been produced during centuries. Saghmosavank underwent the devastating influence of the earthquake in 1988. The reconstruction, completed in 2000, returned the church its beauty and glory.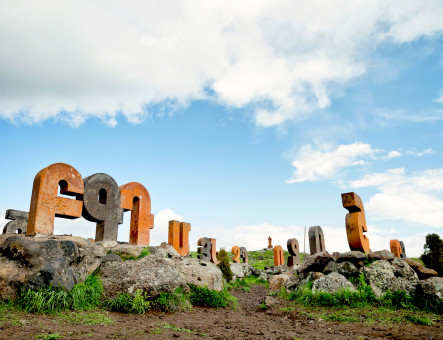 Armenian Alphabet Monument is located in the village of Artashavan, at the east side bottom of Mount Aragats. It was erected in 2005 to the 1600th anniversary of creation of the Armenian alphabet by the design of the famous Armenian architect Jim Torosyan. The monument is an interesting demonstration of the stone carvings of 39 Armenian letters. The Armenian alphabet has been used to write the Armenian language since the year 405 or 406 and is still used to present Armenian language in written form. It was devised by Saint Mesrop Mashtots, an Armenian linguist and ecclesiastical leader, in order to make the Bible accessible to Armenians and spread Christianity. Originally it contained 36 letters and had been completed in the Middle Ages.
Inclusions
Professional guide: ENG + RUS consecutively
Air-conditioned vehicles
Bottled water & pastries
Admission tickets
WiFi in the vehicles
Vehicle & passengers insurance
Exclusions
Lunch cost (3 500 AMD – 4 500 AMD)
Hotel drop-off after return to Yerevan
What to expect
Marvel at the medieval architectural details
Observe the highest peak of Armenia
Enjoy harmony at nature
Reveal the secrets of Armenian national sweets
*This tour is NOT recommended for people with high blood pressure
*It is recemmended to take warm clothes even in summer
*Take with you cash Drams: it is not always possible to pay for lunch in the restaurant by Credit Card
Cancellation & modification